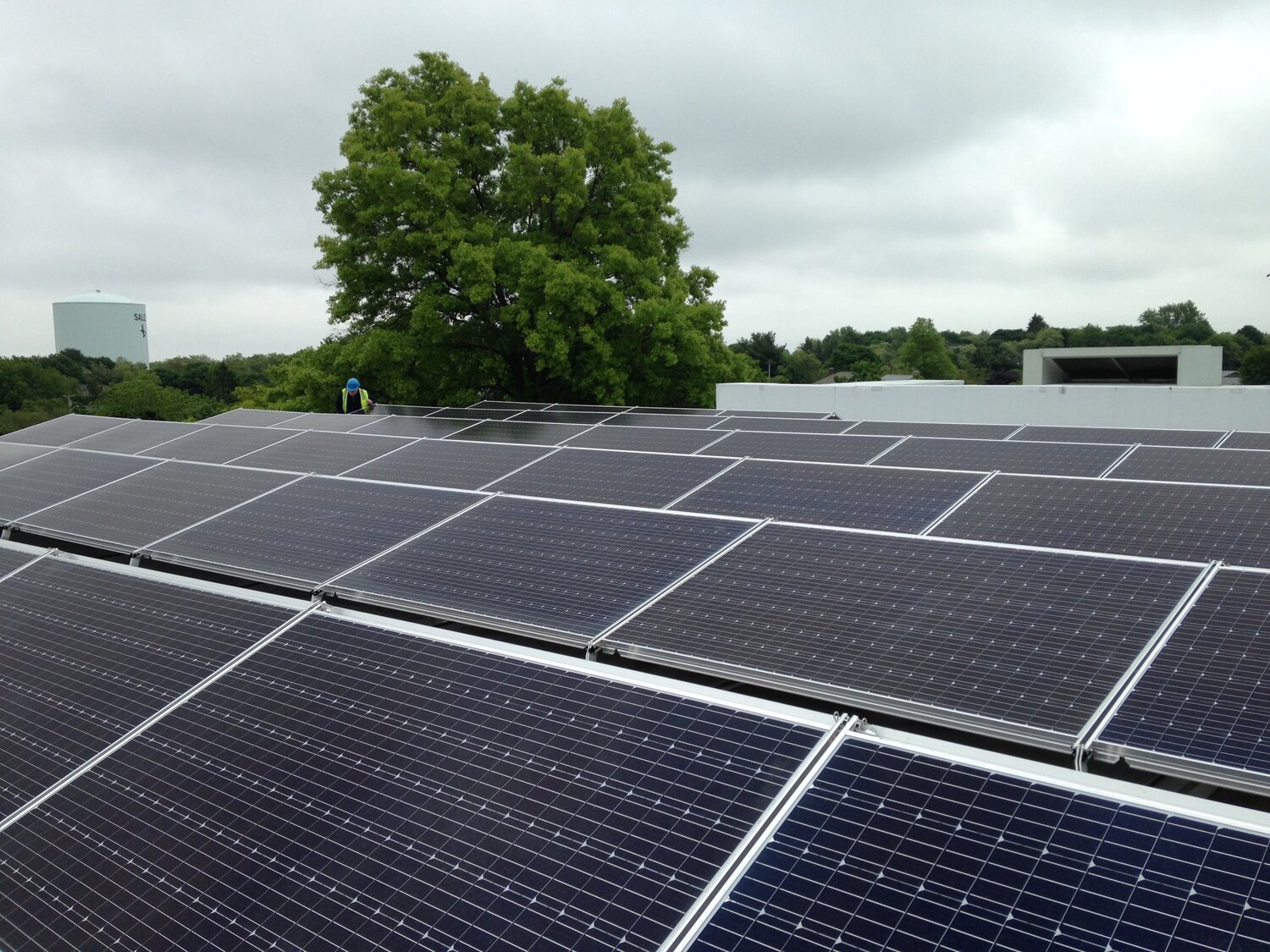 Energy
The Cities of Beverly and Salem have both committed to 100% renewable energy by 2050.
View the Energy fact sheet.
Housing Units by Fuel Type
To the left, you can see a breakdown of housing units by fuel type. Unsurprisingly, most of the housing units in both Cities run on fossil fuels, although there are some that are electrified. In addition to electrifying the remaining units, we can advance decarbonization efforts by electrifying the grid itself!
Emissions from Electricity
Fossil-fuel based systems, such as space heating and water heating in buildings and gasoline and diesel in cars and trucks, will need to be converted to electricity to make any meaningful impact on our overall carbon footprint. As systems are electrified, the power grid also needs to shed its own reliance on fossil fuels, requiring a rapid integration of renewable energy into the National Grid portfolio. The current fuel mix for generating electricity still contributes almost 20% to our communities' carbon footprints.

Fortunately, programs and initiatives in both Beverly and Salem, alongside state and utility programs, are reducing fossil fuel consumption, driving a transition to local renewable energy sources, promoting energy efficiency, and hardening the systems of our critical facilities.
We envision a future where renewable energy is accessible to all residents and businesses, and that our energy supply is reliable, efficient, safe, and resilient to climate-related disruptions. Both Cities have committed that municipal operations will use 100% local clean energy by 2030 and all community energy will be supplied by renewable sources by 2040.
Clean Energy in Beverly and Salem
Municipal Renewable Energy
Local government leaders have committed to 100% renewable energy use by 2030. Track their progress here.
Clean Energy in Beverly and Salem
Solar Installed in Our Communities
Beverly and Salem are both committed to a clean energy transition, and have been increasing solar capacity since 2014.
On a former landfill in Beverly, 14.3 acres of solar panels provide enough electricity to power 745 homes for a year – a third of that power is reserved for Beverly Public Schools.
Solarize Massachusetts campaigns in Salem in 2014 and 2019 resulted in 59 solar photovoltaic (PV) systems installed on homes and businesses. Salem is expanding its support of Solarize, partnering with the Towns of Nahant and Swampscott to launch Solarize North Shore, making it easier and more affordable for residents and businesses to buy and install solar PV, air-source heat pumps, and solar hot water.
Municipal energy reduction initiatives in Salem provide an estimated annual savings of nearly $750,000 and the equivalent carbon emissions reduction of 669 passenger vehicles driven for one year.
Beverly has completed dozens of major energy efficiency projects for schools, libraries, and outdoor and street lighting. Green Communities projects performed between 2011-2017 generated an annual energy savings of almost $400,000.
Looking forward, the Cities want to ensure our own community members and local businesses receive all the benefits of the transition away from fossil fuels. The Cities want to invest in K-12 energy education as well as workforce development. Creating pathways to clean energy careers will strengthen and diversify the local economy and speed the uptake of efficiency, resiliency and renewable energy measures.
Learn more about Salem's Community Choice Aggregation (CCA) program
Beverly's CCA is in development! Stay up to date.
Explore various savings on eneryg-efficient household appliances and products from MassSave